Great Electronic Keyboard Players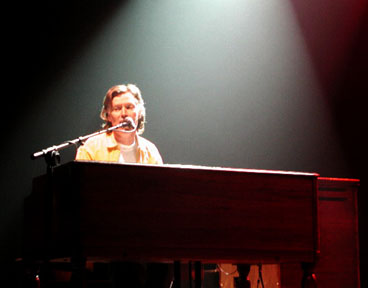 Steve Winwood

Stephen Lawrence Winwood (born May 12, 1948 in Great Barr, West Midlands) is an English singer-songwriter and multi-instrumentalist who, in addition to his solo career, was a member of the bands the Spencer Davis Group, Traffic, and Blind Faith.

Winwood was a part of the Birmingham rhythm and blues scene from a young age, playing the Hammond B-3 Organ and guitar, backing blues singers like Muddy Waters, John Lee Hooker, T-Bone Walker, Howlin' Wolf, B. B. King, Sonny Boy Williamson II, Eddie Boyd, Otis Spann, Chuck Berry, and Bo Diddley on their United Kingdom tours (the norm at that time being for US singers to travel solo and be backed by 'pick-up' bands).

Winwood became a member of the Spencer Davis Group at 15 with his older brother 'Muff' (who later had much success as a record producer), and had hit singles with "Keep On Runnin'". Steve co-wrote and recorded "Gimme Some Lovin'" and "I'm A Man" before leaving to form Traffic with Chris Wood, Jim Capaldi and Dave Mason.
During the late-1960s, Winwood and Mason became close friends of Jimi Hendrix. Hendrix first heard "All Along the Watchtower" at a party he was invited to by Mason, they recorded the Hendrix version later that night in a London recording studio. Winwood played often with Hendrix, featuring prominently on Electric Ladyland.' Notably, he contributed the powerful Hammond organ riffs on Voodoo Chile.

In 1969, Winwood once again gave a powerful organ expression on Joe Cocker's With A Little Help From My Friends, he has later played keyboards on albums as diverse as Toots & The Maytals Reggae Got Soul and Howlin' Wolf's The London Howlin' Wolf Sessions.

He formed Blind Faith in 1969 with Eric Clapton, Ginger Baker, and Ric Grech, but the band was short-lived, due to Clapton's greater interest in Blind Faith's opening act Delaney & Bonnie & Friends, Clapton left the band after the tour had ended. However, Baker, Winwood, and Grech stayed together to form Ginger Baker's Air Force. The lineup consisted of basically 3/4 of Blind Faith (sans Clapton, replaced by Denny Laine), 2/3 of Traffic (Winwood and Chris Wood, minus Jim Capaldi), plus musicians who interacted with Baker in his early days like Phil Seamen, Harold McNair, and Graham Bond. But this supergroup turned out to be just another short-lived project. Winwood soon went into the studio to begin work on a new solo album, tentatively titled Mad Shadows. However, Winwood ended up calling Chris Wood and Jim Capaldi in to help with session work, which instead prompted Traffic's amazing comeback album John Barleycorn Must Die. Winwood has always said that the sound of John Barleycorn Must Die really reflects what Winwood intended Traffic to be.

Constant artistic differences and personnel changes led to Traffic's final break-up and Winwood's release of his eponymous first solo album in 1977. This was followed by his 1980 hit Arc Of A Diver and Talking Back To The Night in 1982 (both albums recorded at his home in Gloucestershire with Winwood playing all instruments). He enlisted the help of a coterie of stars to record Back In The High Life (1986) in the US, and again he was rewarded with a hit album. All were released on Island Records. In 1986, he topped the Billboard Hot 100 with "Higher Love".

At the peak of his commercial success, Winwood moved to Virgin Records and released Roll With It and Refugees Of The Heart. Both the album "Roll With It" and the title track hit #1, respectively, on both the album and singles chart in the summer of 1988. He recorded another album with Jim Capaldi released under the Traffic name, Far From Home, then resumed his solo career with his final Virgin album Junction Seven.
In 1995 and 1996, his last hit song that Winwood had reached #1 on the U.S. singles charts was "Reach for the Light (Theme from Balto)".

In 2003, Winwood released a new studio album, About Time on his new record label, Wincraft Music. 2004 saw his 1982 song 'Valerie' used by DJ Eric Prydz, in a song called 'Call On Me'. It spent five weeks at Number 1 on the UK singles chart. Winwood heard an early version of Prydz' remix and liked it so much, he not only gave permission to use the song, he re-recorded the samples for Prydz to use.

In the 2005, Soundstage Performances DVD was released, featuring his recent work from the album About Time along with his classic hits including "Higher Love" and "Back in the High Life". Winwood also performs hits from his days with Traffic (recently inducted into the Rock and Roll Hall of Fame) as well as current recordings that represent a tapestry of tastes woven after 40 years in music.

He is currently working on his new studio album slated for release in 2006, and is preparing a live album from his American 2005 tour. Steve also recently announced his fall 2006 tour. Additionally, Christina Aguilera features Steve on one of her songs from her upcoming record 'Back to Basics', called 'Makes Me Wanna Pray'.--Bio Courtesy of wikipedia

Visit the official Steve Winwood Web Site stevewinwood.com

Traffic: The Low Spark of High Heeled Boys
Despite not even charting in the band's native England, this album became a platinum-selling American hit on the basis of three enduring FM radio staples--the expansive, jazzy impressionism of the near-12 minute title track, and the more straightforward funk of the R&B charmers "Light Up or Leave Me Alone" and "Rock & Roll Stew." Those disparate tracks perfectly underscore Traffic's rich musical appeal and its restless, sometimes problematic creative and interpersonal relationships. With now thrice-departed Dave Mason out of the mix and percussionists Jim Gordon and Reebop Kwaku Baah participating in the studio for the first time, the band's innate musicality truly takes wing. Winwood's familiar vocal phrasings nearly take a backseat to his fluid, dramatic guitar work on "Rock & Roll Stew Roll" and "Many a Mile to Freedom," while the Tull-ish, folk-madrigal sensibilities of "Hidden Treasure" and "Rainmaker" are further punctuated by Chris Wood's deft flute and woodwind flourishes. Compared with the more organic John Barleycorn album, the contrast is all the more remarkable. While many contemporary bands were experimenting with various attempts at fusion, few achieved this collection's rock-jazz-folk-R&B range or level of often subtle sophistication. Digitally remastered, this edition also contains the six-minute-plus U.S. single version of "Rock & Roll Stew, Parts 1 & 2" as a bonus track. --Jerry McCulley
Arc of a Diver - He wasn't Little Stevie, the 16-year-old phenom who set mid- '60s London blazing with his Ray Charles-like vocals, anymore. He was a half-forgotten ex-member of some of rock's most progressive (Traffic) and vilified (Blind Faith) bands, and he was considering leaving show business while recording this--his second album--alone and without a backup band. Arc of a Diver reflects a resigned-to-fate mood. It boasts a synth-heavy, dub-like ambience, with dirge-y tracks like "Spanish Dancer" and the wistful single "While You See a Chance" all but zoning out of your speakers. The fates were kind, though. Recording the single, Winwood inadvertently erased the drum intro. This spacey alteration, together with his catchiest tune since "Paper Sun," catapulted the song onto the charts. In a few years he would be among the top-selling vocalists in the world. His mood was lighter. He could afford to hire engineers that didn't make mistakes. --Don Harrison
Back in the High Life. Steve Winwood was indeed enjoying the high life after the release of this album in 1986. Back in the High Life is one of the best albums of that musically rich decade, providing Winwood with four huge hit singles: Higher Lover, The Finer Things, Freedom Overspill, and Back in the High Life Again.-- Daniel Jolley

Sound Stage: Steve Winwood Live in Concert (2005)--DVD
Smooth delivery, high-spirited melodies, that velvet voice and a soul-stirring rhythmic foundation. All are the elements that Steve Winwood brings to Soundstage featuring his recent work from the album About Time along with his classic hits including "Why Can't We Live Together" and "Back in the High Life." Winwood also performs hits from his days with Traffic (recently inducted into the Rock and Roll Hall of Fame) as well as current recordings that represent a tapestry of tastes woven after 40 years in music.

If you are a Steve Winwood fan then perhaps you will enjoy my CD as well.
My CD is more electronic than Steve Winwood but my record is loaded with
Fender Rhodes, Clav, and Moog sounds along with soulful guest vocalists.
The Satellite Orchestra is the latest project from Los Angeles keyboardist Rodney Lee. The music is a cinematic journey into soulful live electronica with Lee navigating from a Fender Rhodes electric piano. The CD was released in Sept. 2006 and features Rico Belled on bass, Allen Lightner on percussion, Dino Soldo on bass clarinet and flutes, Dave Karasony on Drums, and vocalists Jody Watley, Jeff Robinson, and Wade3.
The Satellite Orchestra is like a chance meeting of Massive Attack, Zero-7, and Herbie Hancock.

" I have always believed that an album is a trip..not just music to wash the dishes to, but a place to go.. a journey to take.. an album goes to a place in your soul that maybe you forgot was there...or maybe you never discovered.. The Satellite Orchestra is such an album..it's music you feel...make sure to bring your headphones." -DJ Jedi