Keith Emerson: Emerson, Lake & Palmer

Great Electronic Keyboard Players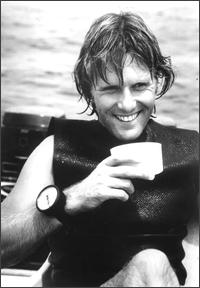 Keith Emerson: Emerson, Lake and Palmer

Throughout his career with the Nice, Emerson, Lake & Palmer, and as a solo artist, Keith Emerson has proven himself perhaps the greatest, most technically accomplished keyboardist in rock history. For all his reputation as an innovator and master of classically influenced rock, Emerson (born November 1, 1944, in the English town of Todmorden) began his career playing R&B; the Nice got their first big break backing soul singer P.P. Arnold in 1967. Independently of Arnold, the Nice carved out a niche in the fledgling prog rock movement, with Emerson's classical flourishes and flamboyant showmanship (flinging knives at his keyboard, etc.) leading the way. After the Nice's dissolution, Emerson fleshed out his musical ideas to their fullest with Emerson, Lake & Palmer, which debuted in 1970 and had a series of highly successful albums throughout the decade. Emerson made his solo debut in 1976 with the single "Honky Tonk Train Blues," which hit the U.K. Top 30, but did not pursue a solo career in earnest until after ELP's 1980 breakup. Emerson first scored the films The Inferno (1980) and Nighthawks (1981), but did not return until 1985, when he released Honky. 1986 found Emerson participating in a revamped ELP -- this time with drummer Cozy Powell -- but still finding time to record the solo LP Murderock. In 1987, Emerson released Harmageddon/China Free Fall, and the following year, he undertook a project with Carl Palmer and songwriter Robert Berry. Emerson, Lake & Palmer reunited in 1992 to record new material and tour, but when this venture proved less successful than hoped, Emerson announced his retirement from the music business in 1994. That retirement was short-lived, though, as Emerson went on to release the occasional collection of new material or appear on-stage. He even reunited with Nice bandmates Brian Davison and Lee Jackson for a show in Glasgow, Scotland, in 2002 (Vivacitas). He penned an autobiography, Pictures of an Exhibitionist, in 2004 and received the compilation treatment from Castle Records in 2005 with the two-disc Hammer It Out: The Anthology..--Bio Courtesy of allmusic.com
Visit the Official Keith Emerson Web Site www.keithemerson.com
| | |
| --- | --- |
| | EMERSON, LAKE and PALMER: Trilogy -- Trilogy finds ELP at a more harnessed, yet still experimental and progressive format, as this offering is not as harsh and abrasive sounding as Pictures at an Exhibition. It seems more clean, crisp and refined, yet still encompassing the complex and manic keyboard flourishes of Keith Emerson. It also has the more elegant Greg Lake pieces (In The Beginning), and Carl Palmer's fabulous drumming. You get quirky numbers like The Sheriff, which features a crazed, yet humorous piano solo what I would describe as "wild west ragtime" at the end. Man, Keith Emerson can play the hell out of his instrument. Hoedown, if you remember the "Beef, it's what's for dinner" commercial, then you'll know this is a unique remake of a classical piece. This one is a more rocked up version. Trilogy is one of the prog-rock epics on the disc. It almost has a latin-like feel to it in the way Greg Lake delivers his vocals against Keith's synths and the percussion used in the last few minutes. Living Sin is a great tune. My only complaint is the annoying dark-pitched vocals. Abaddon's Bolero is a synth experiment and is all instrumental clocking in at 8 minutes. And it all starts out with The Endless Enigma, a 10 minute prog fest spread across the first three tracks. This is my favorite from the disc. This truly has some creepy parts in it. Not the least of it is brought on by Keith Emerson's synths. It truly has a creepy last second synth echo that you just can't get out of your head, at least for me. --shamhot |
| | EMERSON, LAKE and PALMER: Tarkus -- The Tarkus suite remains one of the most indispensible tracks in progressive rock history. All three musicians are at the top of their game. Palmer never ceases to amaze with his fabulous and inventive rhythms,while Lake is the glue that holds it all together. But, Tarkus above all else is a Keith Emerson record. Tarkus remains Keith Emerson's shining moment as he dominates the suite from the opening notes of Eruption to the end of Aquatarkus. I have never heard such complete mastery of an instrument as Emerson's domination of his keyboards in Tarkus. However, all members shine inevitably at multiple points during the suite. Lake's vocals are stellar as is his bass and guitar work. Palmer simply had mastered all facets of percussion before ELP even started recording Tarkus. ELP could have just released Tarkus as an ep but they chose to include a number of shorter tracks toward the end or second side of the recording. Jeremy Bender remains one of ELP's stronger tracks to date and probably the most radio friendly. Bitches Crystal is an overlooked gem in the ELP catalogue. Overall, you can't go wrong by purchasing this album. Masterful musicianship, excellent lyrics and concept, you need to own this. P.S. What ever happened to the double cd "ELP: The Atlantic Years?" luckily I got a copy back in the early '90's, it remains the most complete look at ELP for both the casual and hardcore ELP fan alike. -- J. Brittman |
Check out this rare live footage of Emerson, Lake, and Palmer rehearsing
"Karn Evil 9"

---

If you are a Keith Emerson fan then perhaps you will enjoy my CD as well.

Innocent Bystander is my alter ego of hardcore funky electronica. Released in 2000, this CD was featured prominently in MTV Road Rules.
The music infuses elements of Drum-n-Bass, Techno, Reggae, and Funk all with a unifying B-3 organ throughout. Innocent Bystander transcends the space time continuum from 70's funk to the new millennium by perfectly melding the computerized sounds of the new electronica with the raw human feel of old school soul and funk.
It's as if Sly Stone and Jimmy Smith were genetically combined with the Chemical Brothers and Fat Boy Slim! There is even a cover of Sly Stone's "Sing A Simple Song". The result is music for your mind and your ass. It's Medeski, Martin, and Wood on a futuristic tour around Jupiter.